Ice Box Hardware
...
Presently we offer three styles of latches and two styles of hinge as well as the Horizontal D-Pull below. We will be offering other styles of hardware as time allows. All hardware is in production with lead times currently around 12-16 weeks. The small hinge is suggested for use on 36" wide side by sides due to the narrowness of the freezer door.
Reproduction icebox hardware is available in any quantity you need. The offset for all hardware is 3/4". The Dog and Handle latches and both hinges can be machined to an offset anywhere from 3/4" down to 3/8" for an extra fee. All hardware is cast using silicon bronze. Seven basic finishes are available including polished bronze (unlacquered), four nickel finishes, many variations of our antiqued bronze (oil rubbed) finishes and what we call rustic bronze. We offer nickel plating in the following finishes; mirror, brushed, satin and our antiqued nickel which is done with a process we developed. Photos of the various finishes can be found here (not all available finishes may be shown).
The hardware is normally sold as a door set which includes the latch (with catch), two hinges and all necessary screws with a few extras tossed in. Hinges are not necessary with the D-Pull latch. Hardware can also be purchased individually, if you would like to have a door with three hinges for instance.
Purchases can be made with Visa, MasterCard or Discover or check.
To Order Hardware or Ask Questions Please Call us at (540)818-8658 or Send Us an Email at: sales@iceboxes.com
Hardware Outline Drawings in AutoCAD and MS Word Formats
...
...
Ambidextrous Dog and Handle Latch
The latch is supplied "non-functional" but can be made functional as an option.
This latch can be machined to smaller offsets other than the standard 3/4".
Although the Dog and Handle are screwed together where they intersect the door should be opened by pulling the vertical handle only.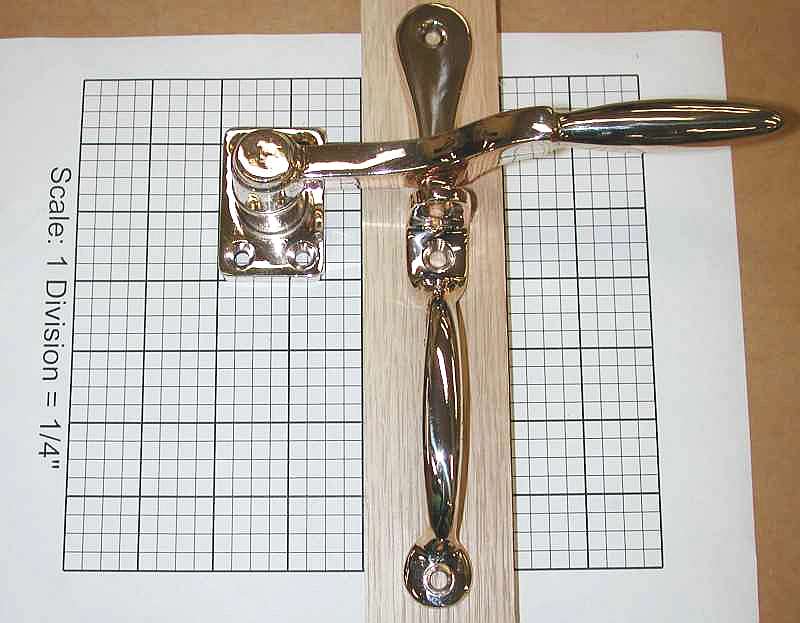 If you would like to see what a dog and handle latch set
can look like on a Sub Zero front click here.
...
Medium Hinge - Left and Right Handed
This is a reproduction made from a hinge that came off an antique McCray icebox. The "McCray" name on the leaf was removed so we could use them on our iceboxes. These hinges can be made functional but typically are sold as non-functional. The bushing at the bottom of the hinge barrel makes the hinge non-ambidextrous so you must specify how many left hand swing and right hand swing hinges you want. The swing of a door (left-hand or right-hand) is determined by which side of the door the latch is on while facing the door. The finish is our unlacquered polished bronze.
...
Small Hinge - Ambidextrous
This is also a reproduction made from a hinge we had on hand. We do not know it's origin. We decided to reproduce it for smaller doors that would otherwise be overpowered by our medium hinge. It is ambidextrous. This hinge is shown in our antique nickel finish.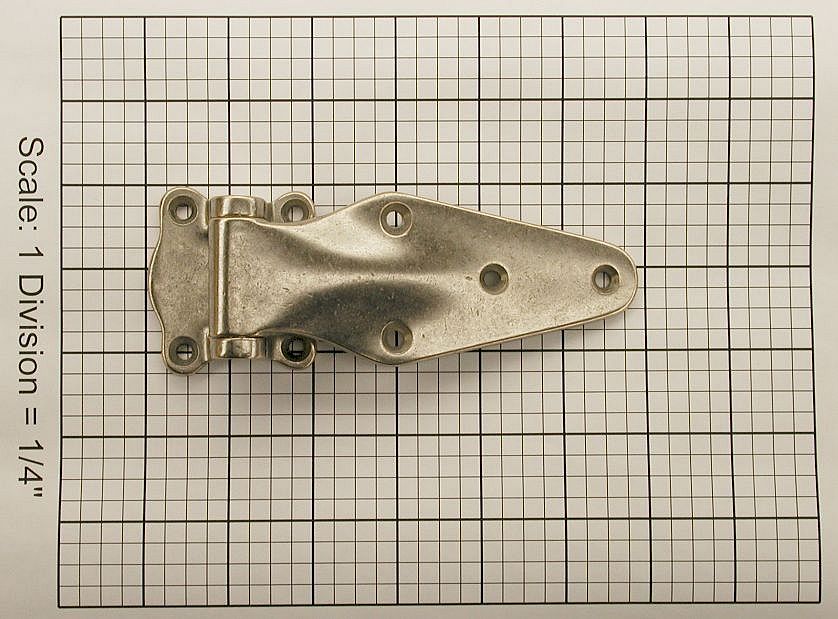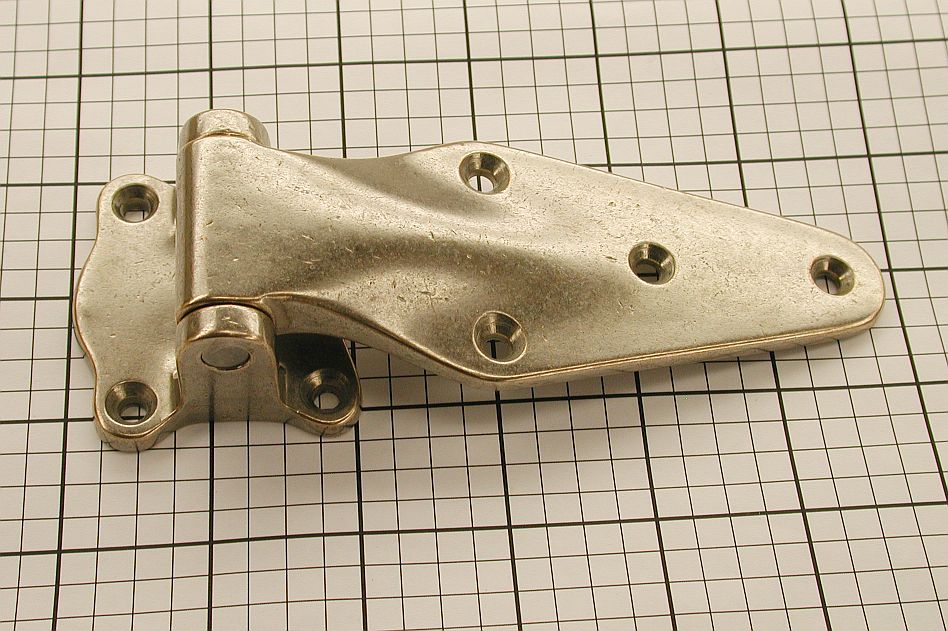 ...
Ambidextrous Horizontal Latch
This latch will be fully functional so it can be used on our iceboxes, it can also be ordered with the handle fixed. The horizontal latch is not a reproduction in the true sense of the word since it is our own design. We were forced to do this since we could not find an antique latch large enough for our needs. But as you can see it is still faithful to the "look" of an antique since the style of the latch was directly inspired by actual antique pieces. In fact the master patterns for the head of the catch and the handle were made from antiques.
Below are two photos of the horizontal latch and catch in our antiqued nickel finish.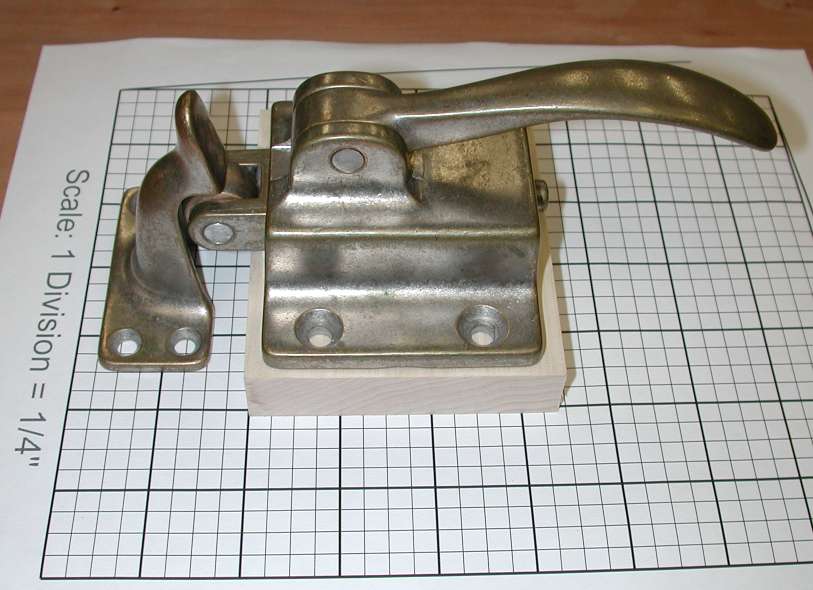 ....
Refrigerated Drawer D-Pull Latch
and Horizontal D-Pull
For Sub Zeros, under the counter or other refrigerators with drawers we are offering these two D-Pulls that will work perfectly for this application. Contrary to popular notion, refrigerated drawers are not a new idea as is shown in the icebox photo below. We have obtained the exact hardware in this photo and are reproducing it with only a minor modification to make it easier to polish. The Horizontal D-Pull is also patterned from an antique piece. The D-Pull Latch is in the antique nickel finish, the Horizontal D-Pull has not had a finish applied yet.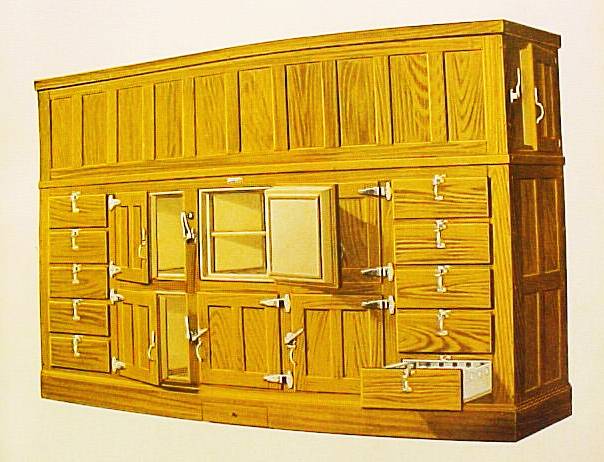 ...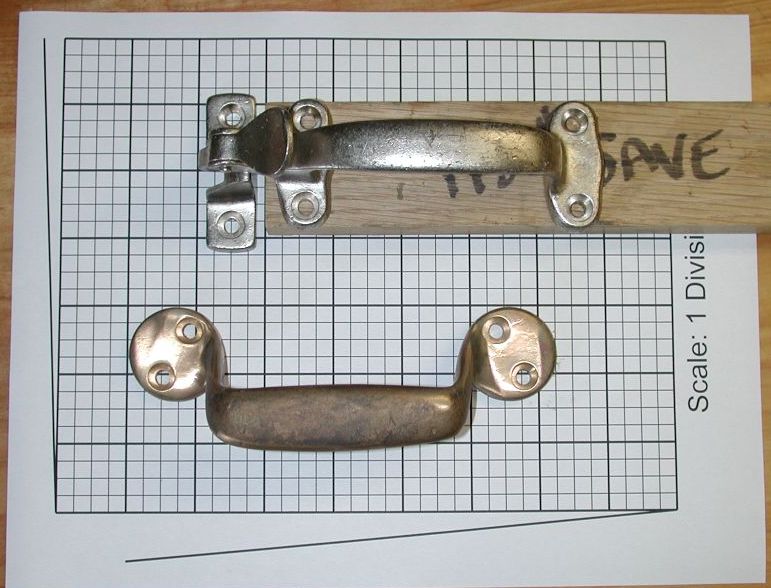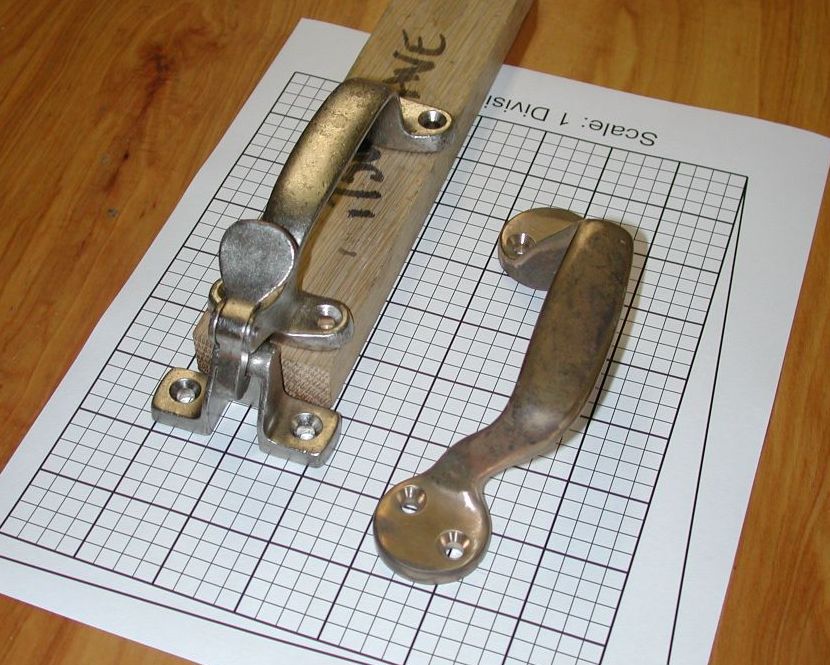 ....
...